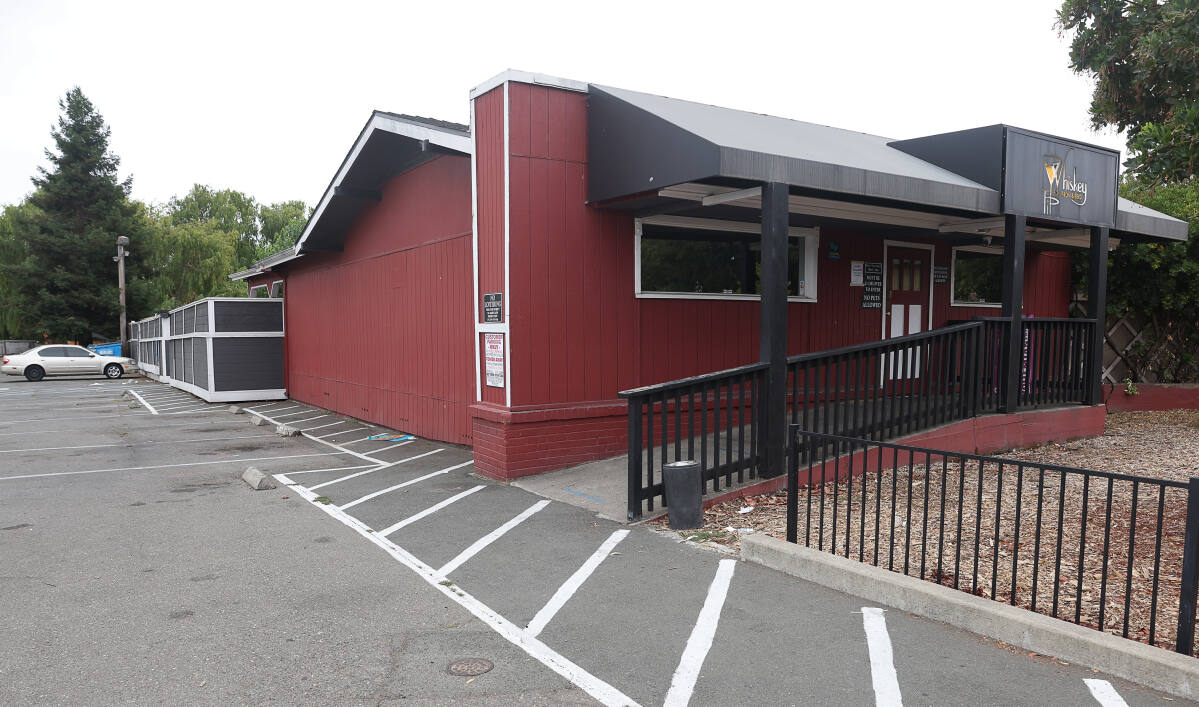 The shoot does not reflect the positive impact of the bar on the region
[ad_1]
A member of the Santa Rosa City Council who was among the patrons of a local bar on Saturday night, just before a fatal shooting took place in his parking lot, said on Monday that the incident in no way reflected the atmosphere positive that the company brings to the community.
Eddie Alvarez said he spent about an hour visiting voters at The Whiskey Tip, which hosted a rap and hip hop show on Saturday night. He said he left the bar about 15 or 20 minutes before the shooting happened at around 9:15 p.m.
Located near the southeast corner of Sebastopol and Stony Point roads, the popular nightclub attracts a cross section of Sonoma County patrons. It hosts all kinds of events, such as wrestling matches, fashion shows and live concerts featuring artists from all musical genres.
Just before the business opened at 3 p.m. on Monday, an employee addressed questions about the shooting to its owner, whose name he did not disclose. Neither the owner nor the director of the company could be reached for comment.
Saturday's performance drew a crowd of around 100, the board member said, adding that the festivities were marred by the shooting.
"It was a great event that was marred, marked by this tragedy," said Alvarez, who represents District 1, which includes Sebastopol and Stony Point. "It's definitely an unnecessary loss of life. Someone has lost their life in a good place.
The Sonoma County Sheriff's Office identified the shooting victim as Kenneth McDaniel, a 27-year-old Santa Rosa resident.
Another resident of Santa Rosa, Fogatia Fuiava, 29, has been identified as a suspect.
He was arrested for murder around 2:45 a.m. Monday along Anteeo Way near Moorland Avenue in an area just outside the southern city limit and nearly 4 miles from Whiskey Tip .
Fuiava is being held without bond at the Santa Rosa Main Adult Detention Center, prison records show.
McDaniel is at least the third homicide victim in Santa Rosa this year.
Ahead of Saturday, the most recent homicide in the city took place on July 5 when someone opened fire on a crowd that had gathered at an impromptu fireworks display along Beachwood Drive.
Even a single homicide is too much, Alvarez said, but Saturday's incident is particularly rare because it happened in the context of a business.
Police found McDaniel unconscious in the parking lot on Saturday night. Officers provided him with medical treatment before he was taken to a local hospital and pronounced dead, the Santa Rosa Police Department said.
Little was immediately known about McDaniel, but Sonoma County Superior Court records show he had felony and misdemeanor cases against him dating back several years. The crimes included allegations of burglary, assault and possession of tear gas.
Investigators believe two people armed with handguns approached McDaniel in the parking lot and shot him. They then fled the area, police said.
Santa Rosa Police Sgt. Chris Mahurin said McDaniel and Fuiava knew each other, but were not friends. It appears that an argument preceded the shooting, but a specific motive is under investigation.
Mahurin agreed that the Whiskey Tip "is not known to be a place of violence".
It opened about six to eight years ago on a property previously occupied by a bar called Giga's, which had been around for decades.
Whiskey Tip sits at a busy intersection with heavy traffic and several small businesses, and is the only bar in the Sebastopol Road corridor, Alvarez said.
A long bar runs parallel to the right side of the building and several tables and seats are visible to the left, with additional space at the back on the patio. A sign above the patio door indicates that the bar has a maximum indoor capacity of 65.
A makeshift memorial for McDaniel has been set up at the edge of the Whiskey Tip parking lot against a chain-link fence separating the property from a building with several businesses, including a True Value hardware store.
A Mexican food trailer sat next to the memorial on Monday and several patrons watched the candles laid out for McDaniel, wondering what had happened and why someone had died.
A few yards away, a Whiskey Tip customer was sitting in his car waiting for the bar to open. He said he knew nothing about the shooting, but had been frequenting the bar for several years and had no intention of stopping.
Democratic press reporter Matt Pera contributed to this story.
[ad_2]
Source link