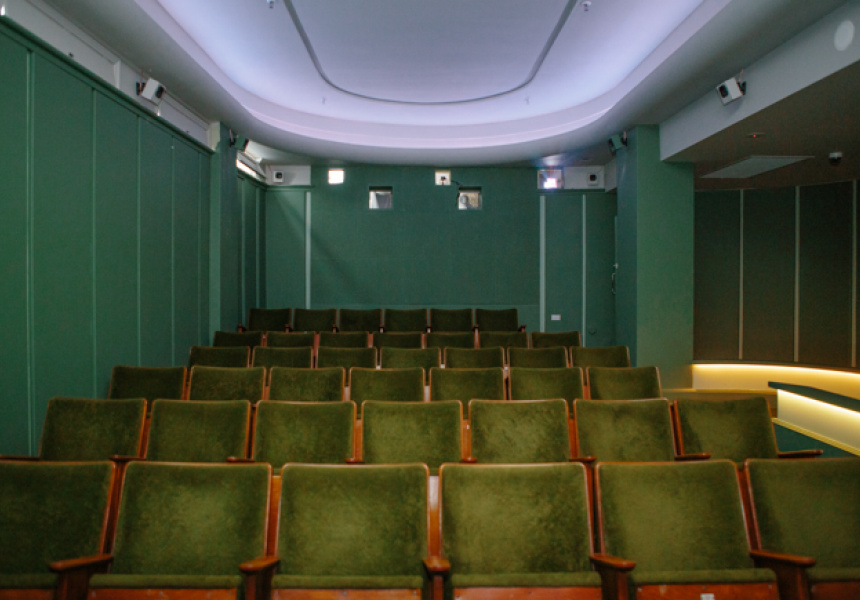 The Golden Age Cinema & Bar team opens Shades, a new bar and cultural space in Central Station
[ad_1]
A neighborhood bar and cultural space is settling into Eddy's temporary compound at the northern end of Central Station, and their credibility is impressive. Shades, which will open in mid-December, is the work of the team behind the Golden Age Cinema & Bar in Surry Hills. Like Golden Age, it will bring good drinks together with film, music and art.
The small bar out front will serve wine from Australia's east coast, as well as "disco-inspired" cocktails and beer. A bar menu of pies and sausage rolls pays homage to the old-fashioned railway refreshments that served passengers at stations like Central. Punters will also be able to order from the City Oltra pop-up pizza, which will open soon in the hub.
The vinyl will be on rotation, with guest curators pumping out their best tunes from a Pitt & Giblin speaker system. Head up a ramp and through the back door to a warehouse-style space that will serve as the venue's cultural hub. The resident DJs will be regulars, as will the experimental cinema evenings programmed by the Golden Age team. Stacks of vintage Klipsch speakers from legendary nightclub Sublime will provide the sound, while projectors and screens offer the possibility of digital and video art installations.
"Cities are unique because of their different layers and this is a great opportunity to provide something that we feel is missing in this part of the city," Golden Age co-founder Chris Barton said in a statement.
Soon, Central Station won't just be a place to go somewhere else (especially since many of its shops and restaurants have closed over the past two years.) Joining Shades and City Oltra in the new hub are a series other shops and cultural spaces. Get your sneakers washed at Shoebox; pick up a bouquet at Dust Flowers; find condiments, snacks, coffee and baked goods at Condimental's Picnic Central condiment supplier; buy fruit-shaped candles at Nonna's Grocer; and try new shades in the Shade Files sunglasses store. And creative events venue The Eddy Multi-Space, curated by urban strategy and place-making studio Right Angle – which also curated and managed The Eddy project on behalf of Transport for NSW – will feature exhibitions, screenings, conferences and more. Some sites are already open and the hub officially opens on November 24.
Shades will open in mid-December in The Eddy area of ​​Central Station.
@shades_bar

[ad_2]
Source link