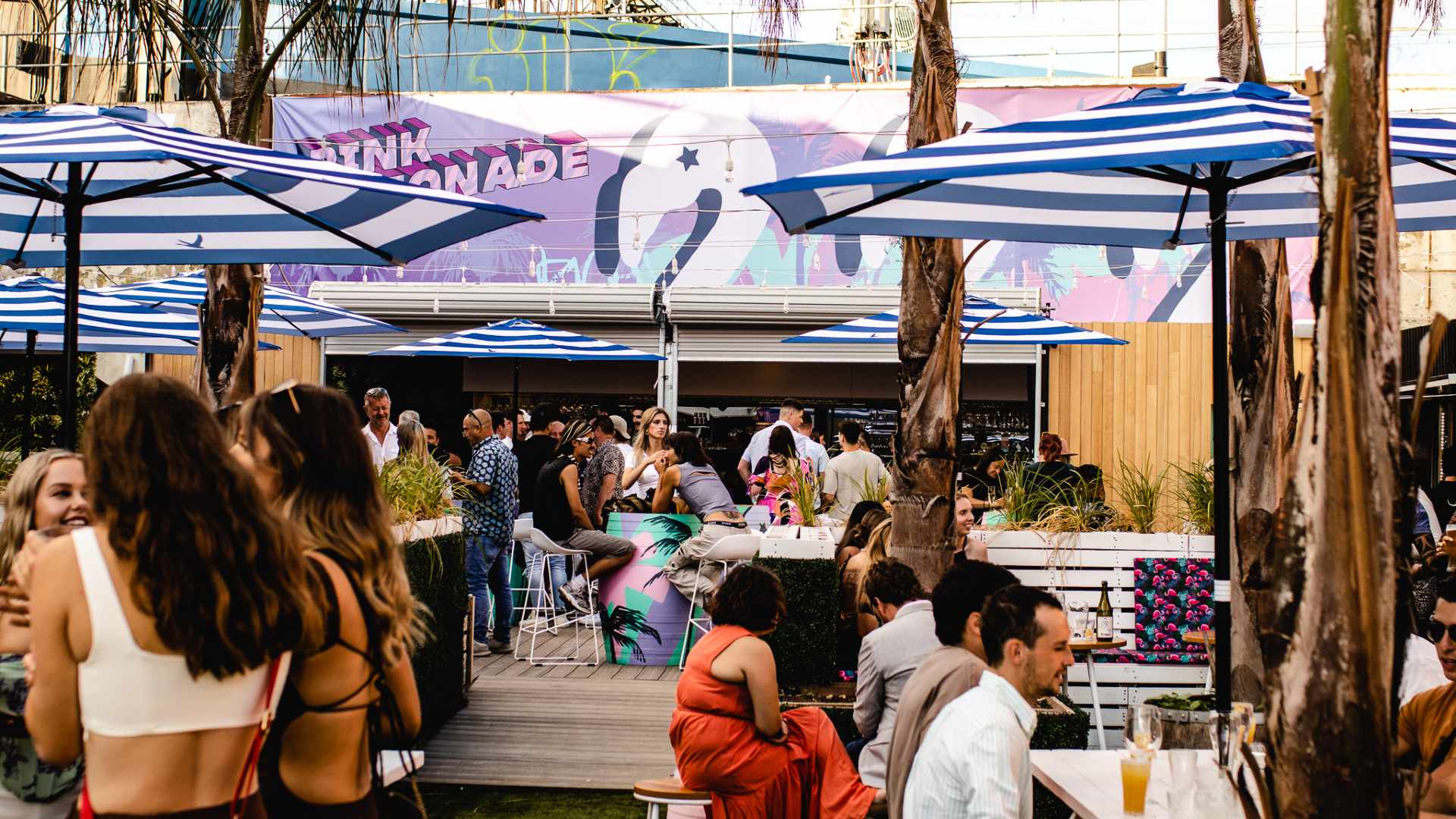 Pink Lemonade is Richmond's effervescent new outdoor bar and food truck stop
Richmond's newest venue flipped the script on this classic song about turning paradise into a parking lot. Adorning a Swan Street space that once housed a car hire company car park, you'll now find Pink Lemonade – a vibrant outdoor oasis adorned with eye-catching murals, Astroturf and fairy-lit palm trees.
Bringing an injection of color to this once heavy concrete pocket next to Richmond Station, the open-air watering hole has undergone its striking transformation over the course of a few closures. Owner Darren Legg took inspiration from his own favorite outdoor spaces and hobbies, commissioning local street artist and illustrator Juzpop, aka Justine Millsom, to spruce up the site with a strip of art in roses, vivid purples and aquas.
Launched at the end of December last year, Pink Lemonade now offers an assortment of outdoor tables, shipping containers fitted with wooden cabins and dry bars made from barrels, where punters can relax sipping, sunbathing and socializing.
Other converted shipping containers house the Pink Lemonade bar — slinging spritzes, draft beers, boozy slushies, and Gray Goose cocktails aplenty — and the resident kitchen, Hells Bellz BBQ Smokehouse. It serves American-style barbecue dishes, available for service or loaded onto a platter of meat combinations. Think pork ribs, smoked chicken wings, kransky snags and homemade coleslaw, plus plant-based options like grilled portobello mushrooms and mac and cheese. More food trucks will soon join the rotation.
As with all good outdoor bars, this one will also have a stack of things to fill your calendar. Resident DJs are already spinning tunes every weekend, themed movie nights are in the works and there will be plenty of dance parties and other music events to look forward to. Plus, kicking off this month is a never-ending weekly brunch series, happening every Saturday and Sunday.
Meanwhile, the on-site Black Drum Cafe offers daytime coffee, smoothies and toast, conveniently located a short walk from the train station.
Find Pink Lemonade at 23 Swan Street, Richmond. It is open from 12 p.m. to 9 p.m. from Friday to Sunday. The Black Drum Cafe is on the same site, open 6am-3pm Monday-Friday and 7am-3pm weekends.
Posted on February 11, 2022 by
Libby Curran