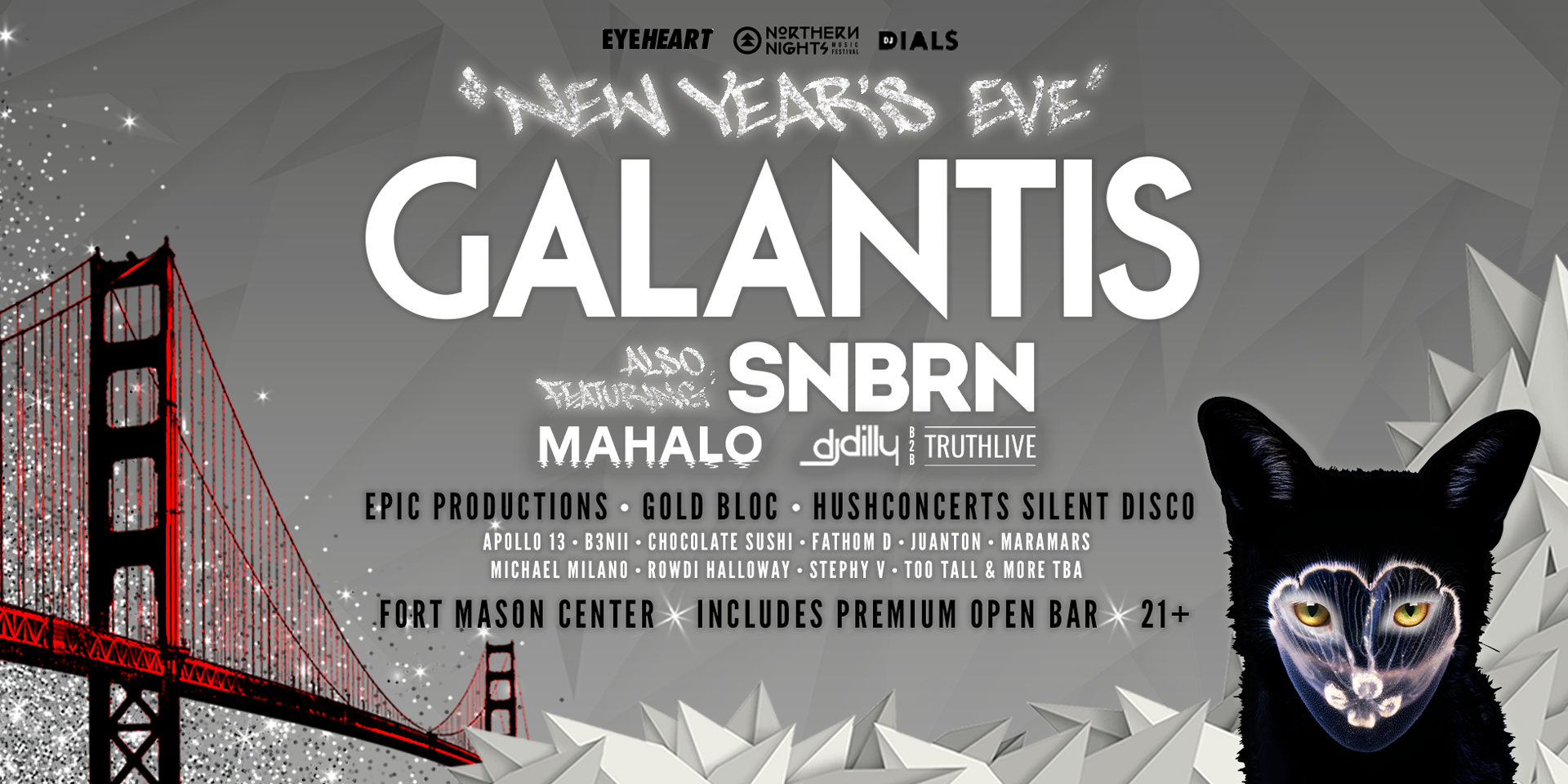 New Years Eve with Galantis (LIVE) + SNBRN in San Francisco + Open Bar at Festival Pavilion in San Francisco – December 31, 2021
EyeHeartSF and Northern Nights Music Festival present the 12th edition of EYE HEART NYE with a PERFORMANCE LIVE by GALANTIS. Also featuring SNBRN, Mahalo and DJ Dilly b2b Truthlive on the main stage.

Announcement of phase 1 of our 2nd stages HUSHconcerts Silent Disco Takeovers by EPIC Productions, Gold Bloc and Northern Nights / EyeHeartSF.
With: Apollo 13, B3nii, Chocolate Sushi, Fathom D, Juanton, MaraMars, Michael Milano, Rowdi Halloway, Stephy V, Too Tall and more.

The event is located inside the festival pavilion at Fort Mason Center on the historic San Francisco waterfront overlooking the Golden Gate Bridge and Alcatraz!

Also features an expanded outdoor area with Silent Disco with 3 DJ channels, interactive photo opportunities and art installations, and VIP experiences.

* * * * * * * * * *

Voted "Best Event in San Francisco"
Recognized by Rolling Stone, VICE, DJ MAG, as one of the best NYE parties in the country!

* * * * * * * * * *

|| ALL TICKETS INCLUDE – PREMIUM OPEN BAR || 9 p.m. to 2 a.m. [ EVENT Strictly 21 & OVER ]

LIMITED VIP TABLES are available:
[email protected] (serious requests only)
– Table and bottle packages, starting at $ 2,500
– VIP elevated table options for small groups and couples available, starting at $ 800
EyeHeartSF and Northern Nights Music Festival present the 12th edition of EYE HEART NYE with a PERFORMANCE LIVE by GALANTIS. Also featuring SNBRN, Mahalo and DJ Dilly b2b Truthlive on the main stage.
Announcement of phase 1 of our 2nd stages HUSHconcerts Silent Disco Takeovers by EPIC Productions, Gold Bloc and Northern Nights / EyeHeartSF.
With: Apollo 13, B3nii, Chocolate Sushi, Fathom D, Juanton, MaraMars, Michael Milano, Rowdi Halloway, Stephy V, Too Tall and more.
The event is located inside the festival pavilion at Fort Mason Center on the historic San Francisco waterfront overlooking the Golden Gate Bridge and Alcatraz!
Also features an expanded outdoor area with Silent Disco with 3 DJ channels, interactive photo opportunities and art installations, and VIP experiences.
* * * * * * * * * *
Voted "Best Event in San Francisco"
Recognized by Rolling Stone, VICE, DJ MAG, as one of the best NYE parties in the country!
* * * * * * * * * *
|| ALL TICKETS INCLUDE – PREMIUM OPEN BAR || 9 p.m. to 2 a.m. [ EVENT Strictly 21 & OVER ]
LIMITED VIP TABLES are available:
[email protected] (serious requests only)
– Table and bottle packages, starting at $ 2,500
– VIP elevated table options for small groups and couples available, starting at $ 800
Read more

Show less
&nbsp&nbsp&nbsp
CHANGE OWNER

Property of
{{eventOwner.email_address || eventOwner.displayName}}
New owner
Update
EDIT

EDIT

2 Marina Blvd, San Francisco, CA 94123
CALENDAR OF EVENTS IN THE BAY OF SAN FRANCISCO




The best events
Every week in your inbox