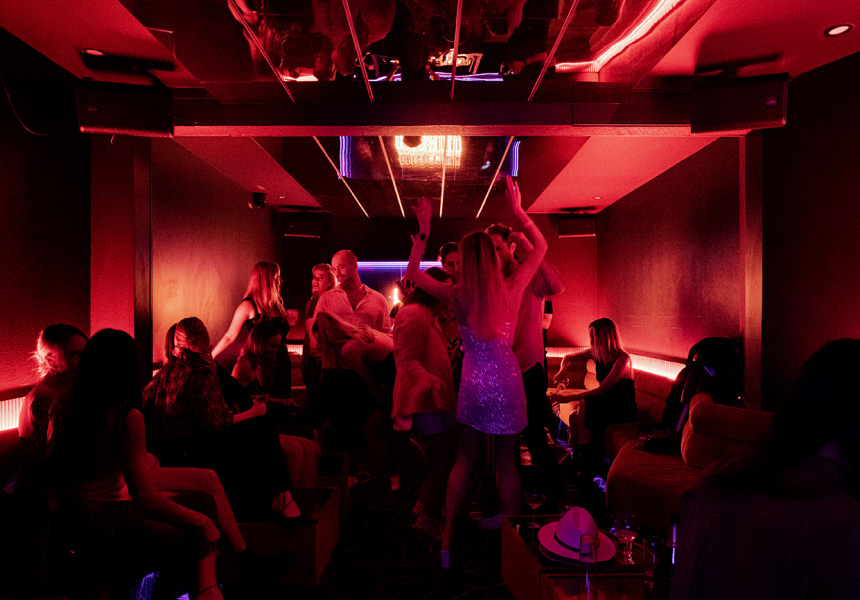 Kissuu restaurant and bar helps revive Oxford Street with disco tunes and Japanese bites
[ad_1]
Experimental Japanese dishes from a former Nobu chef, original cocktails and a dedicated nightclub are all under one roof at Kissuu, a new venue on the Darlinghurst stretch of Oxford Street. It is the creation of Paul Schulte (ex-Prince of York) creative director of Hunger Group (Cafe Parker).
"Having spent a lot of time traveling in Europe and the United States, I love the vibe of a music-focused dining venue," said Richy Penny, co-director and curator of music at Kissuu. Large format. "There aren't many places like this in Sydney, so we saw a gap in the market."
Most evenings in Kissuu will start downstairs in the dimly lit 40-seat restaurant. Behind the menu is co-director and head chef Adam Burke (ex-Nobu London, Toko Dubai and Sunset Sabi, Manly).
"We wanted the food to be fun, a little different, and designed to be shared," Burke said. Large format. "The owners were very open to me mixing things up.
By this he means to mix Japanese cuisine with other influences. Among Burke's favorite dishes are shrimp and scallop gyoza, inspired by his Burmese father. They are served over khao swe (Burmese curried coconut broth), laced with lemon gel and spiced with balachaung (a relish made with onions, garlic, dried prawns and chillies). He also recommends the trevally sashimi taco, topped with a yuzu-togarashi (seven spice) dressing and limes, and the chicken spatchcock, marinated in koji overnight then roasted over a wood fire.
To match is an equally creative drinks list. Signature cocktails include the Twisted Geisha (Tanqueray gin, sake, lychee, and lemon) and the Next to the Koi Pond (Casamigos Blanco tequila washed down with coconut, yuzu, lime, and basil).
Kissuu's late-night parties will be held upstairs in the lounge, which is decked out in red neon lights, plush golden-orange sofas, and a DJ booth that looks like a disco ball. It's far more intimate than most Sydney nightclubs, with space for just 100 dancers. Disco will be the recurring theme.
"I've always been a huge disco fan, from when I started stealing my mom's tapes to now," says Penny. "It's tasteful and easy to enjoy, and it's timeless, so it cuts across all age groups."
Most nights will start with "funk" versions of classics by Diana Ross, the Gibson Brothers, Candi Staton and more, before moving on to disco-house. Penny also plans events, such as special monthly parties and international touring DJ shows.
Kissuu
245 Oxford Street, Darlinghurst
(02) 8054 8787
Hours:
Tuesday to Saturday from 4 p.m. to midnight
kissuu.com.au
@kissuu_oxford_st

[ad_2]
Source link