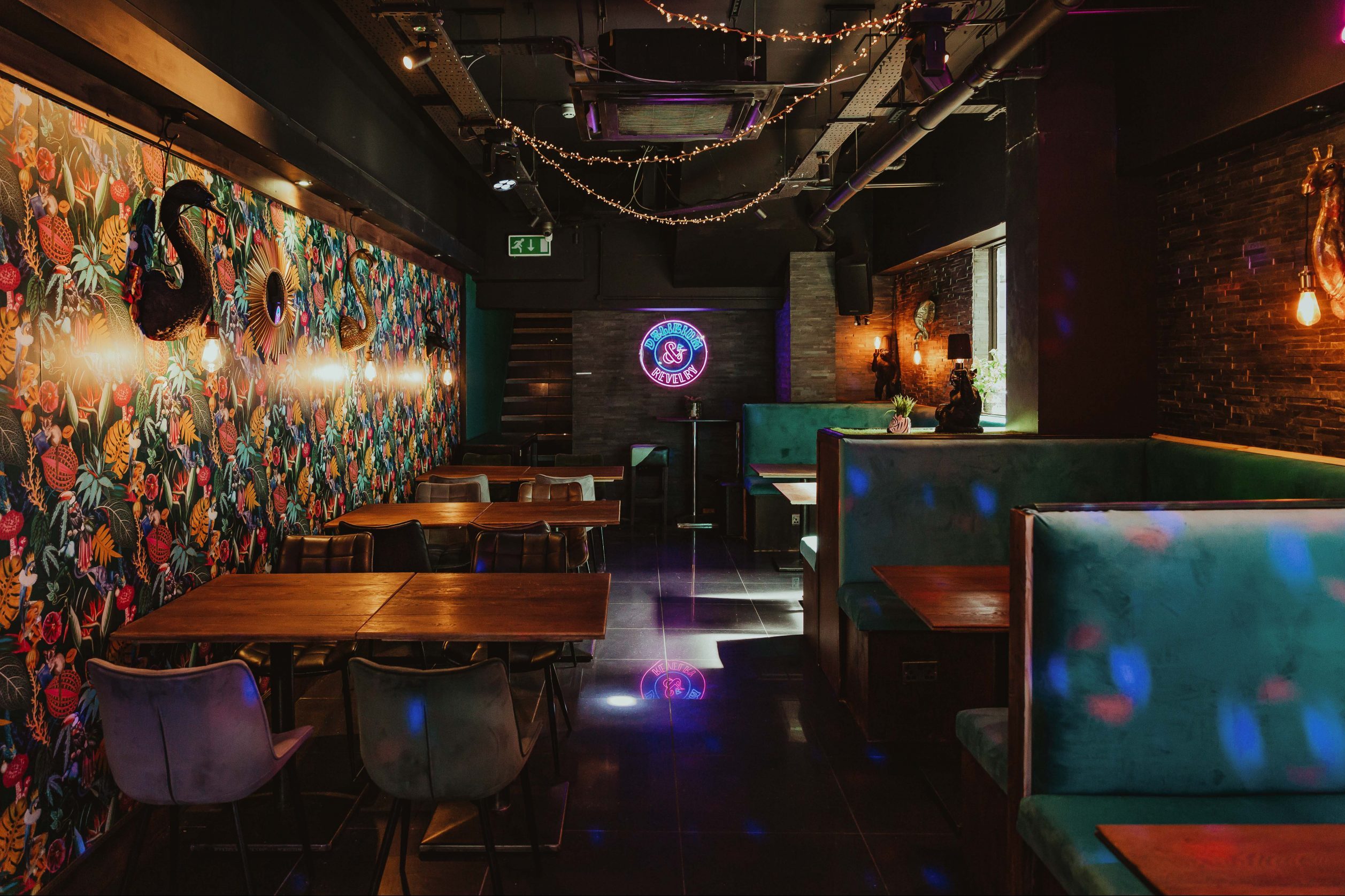 Jungle-themed bar is a "passion project" for business partners
New Briggate in Leeds has welcomed a brand new independent bar – Delirium and Revelry.
It promises inventive cocktails, eclectic music, and vintage-inspired interiors with a modern twist.
The bar is located in the Grand Arcade and is the brainchild of Lydia Phillips and Andy Hedley, who between them have over 15 years experience in the hospitality industry.
Having both enjoyed success in management roles for a variety of different bars in Leeds, Newcastle and Durham, they decided to join forces to create their own brand.
Their bar is in the space previously occupied by Hardy's. It adopted a jungle theme that includes animal light fixtures with Edison bulbs and suede cubicles in a turquoise hue as well as upcycled furniture.
A small private VIP room on the first floor can accommodate up to 10 people and has a secret sliding library.
The bar also has a large second floor, which Phillips and Hedley plan to turn into a speakeasy with retro arcade machines at a later date.
Delirium & Revelry's musical policy will be eclectic, ranging from hip hop during the day to disco house, garage and techno by night.
Phillips said: "I first fell in love with Leeds about seven years ago when I came here for university and was blown away by the nightlife.
"There's a decent bar in just about every corner of town, with a warm Northern vibe and a host of familiar, friendly faces.
"Having worked both behind the bar and later behind the scenes, I feel I have a good eye for what works and what doesn't. My business partner and friend Andy is a local boy who has lived experiences similar to mine, and we just decided it was time to give it a try ourselves."
"Delirium & Revelry has been a real passion project for both of us, and we believe we've created a truly unique space, while complementing the existing bars in the Merrion Street area."