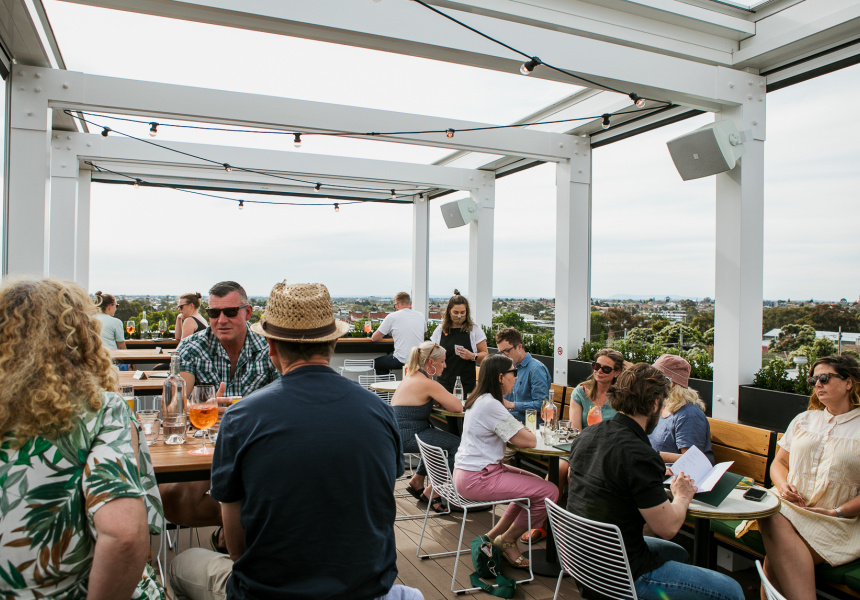 Gigi has a rooftop bar view unlike most others in Melbourne
The Melbourne rooftop bar game is strong. And stunning views of the CBD skyline is often a standard issue.
But the outlook for the brand new Gigi rooftop bar – above Thornbury's recently relocated Umberto Espresso bar – is less gleaming skyscrapers and a larger suburb (and beyond).
"With uninterrupted views to the west with the magnificent Macedon Ranges, there is nothing quite like Gigi north of Carlton," says Marco Finanzio, who owns both Umberto and Gigi with his wife Carla Barbieri.
While it's unlikely you'll stumble upon it (it's only accessible via the Umberto Dining Room), it's worth checking out this summer. Surrounded by lush treetops, "Golden Hour is quite spectacular and no evening is the same," says Finanzio. There are only dates so grab a table at the end of the arvo and sit down to watch the sunset.
As Umberto enters his 13th year, "Get out of my comfort zone and explore local producers, low intervention wines, zero alcohol [drinks] and socially responsible beers are a reflection of the next step, "Finanzio said of his approach to Gigi, who is named after his daughter and Barbieri's. "[The menus] will be constantly evolving, and much more dynamic and adventurous than you usually expect from us.
Angus Cummins – manager of Brother Joanie's Baretto restaurant – took care of the cocktail list. Start with a homemade grapefruit spritz, then move on to Pina Colada Punch, a tropical blend of reposado and tequila with smoked pineapple, Montenegro, pineapple, coconut and lime, or Italo Disco, with vodka. , Nardini Acqua di Cedro (a lemon-based liqueur), salted raspberry, chamomile and lemon. There is also wine from local legends Jamsheed and Minimum Wines, as well as drops imported from Italy and France.
A section dedicated to low-alcohol (and non-alcoholic) cocktails includes Lo Flo, with a tincture of cucumber, elderflower, lemon, and salt and pepper; as good as Quiet Italo Disco.
As far as the snacks are concerned, the formula is simple but satisfactory; Expect ricotta-filled zucchini blossoms, marinated sardine skewers, and three-cheese fried nduja soldiers. If you're hungry, go down for a bowl of orecchiette with broccoli and anchovies.