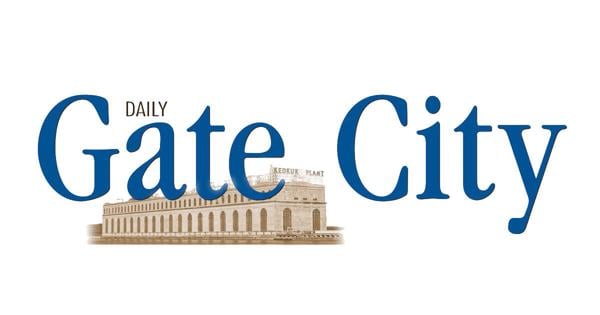 Couple buy former Sidelines bar and plan big changes | daily city gate
The following description on LoopNet.com advertising the building at 1128 Avenue I in Fort Madison for $235,000 must have inspired Brad Kelly: Operating as a sports bar and grill for 20 years, Sidelines is a staple of the Fort Madison community and l one of the few nightlife opportunities! Live music, outdoor entertainment area, karaoke, dancing and more in this unique historic building. Priced to sell as a turnkey business, but the building could house anything from offices to loft-style apartments. This is a great opportunity to run your own entertainment center!
An entertainment center is exactly what Brad Kelly has in mind.
Kelly is the owner of Colorworld, an ever-expanding company. Needing more space than the old church he bought on Eighth Street in Fort Madison, he saw the former 7,557-square-foot Sidelines bar as offering space and more. He even chose a name, Bubble.
Kelly's wife, Rachel, has a series of books with pictures of soap bubbles on the cover of each one.
Calling it the bubble is a tribute to what got the Kellys on "this whole adventure."
The Kellys want the people who partied at Sidelines to come back with their kids.
"It was an amazing staple of this wonderful community for so long," said Brad Kelly. "We want to do something about the sentence: there is nothing to do in this town.
"We want to give people who partied at Sidelines and are now married with kids a place to come with the kids."
The Kellys have seen a number of children's museums and want to incorporate all the best features of them.
Included in the bubble
The first floor will be a restaurant serving a variety of dishes the Kellys have encountered on their travels across America. Seating will continue to the second floor where people can view the Mississippi River through six-foot-tall windows.
The dance floor on the second level will be transformed into a trading card game area where games like Magic, the Gathering, Pokemon, Yu-Gi-Oh can be played. Eventually, tournaments and leagues can be held where ranking will matter.
"We'll have those games that I've played for decades as well as all the new ones that are popular," Kelly said.
On the third and fourth floors, there will be lasertag "like we have never seen before".
Lasertag would ideally develop into a league.
A fireman's pole will be a way to go from one floor to another. The padding will work in two ways, some for the lasertag, some for an area where toddlers and tikes can "roll, run, tackle and play without hurting themselves.
We want it to be a place where people meet and support each other all year round.
The Kellys have six children, ages 17, 15, 13, 11, 3 and 1.
"We've got the full gamut and we know sometimes you need a break or just need another adult to talk to," Kelly said. "We want to give people a fun place."
There will be a mezzanine where moms and dads can bring their food and watch their toddlers play.
"Whoever has the kid that day can come and grab a load, grab a bite to eat and talk to other adults while the kids are having fun.
Affordable
Kelly said an important part of the bubble is providing a venue that is non-discriminatory in terms of income. The city parks are used free of charge and provide refuge for some and the Kellys want the same type of refuge provided at the Bulle.
"Whatever your status, we want you to be able to come and relax, especially in the winter," Kelly said. "Bring the kids and go crazy."
The Kellys estimate that they will take possession in July.
"We think the community is excited to see what we could do."
The Kellys want to do everything they can as soon as they can.
Will be open soon
"As soon as we take possession of the building, we will open the merchandise to retail and then wait for the health department to inspect and give us permission."
All the necessary subcontractors have been called to find out what they are up against. Two decades of things have been accumulated that are being removed.
"Since we don't have a full kitchen, right off the bat we'll have a juice bar, a smoothie bar, and a craft soda bar," Kelly said. Juices and smoothies are all the rage in big cities. "I guess people are tired of eating food."
All the beer flowing through the life of the Sidelines bar will be replaced with 150 different flavors of sodas.
The commercial part will be the easiest to open. Pre-packaged products, animated clothing, metal bookmarks and related accessories will arrive quickly.
Cold food will be an option at first, and "fingers crossed" it will be open by August 1.
The Department of Health will determine much of the timing.
Food outside
The outdoor possibilities are endless for food. A large old smoker and grill is quick and easy and would provide the availability of a commercial kitchen producing hot food. Kelly mentioned "mean chicken and waffles". The fried chicken will be a recipe learned from a friend's grandmother. "My kids had to eat so much chicken for us to write the recipe and consistently produce a delicious product."
Kids are picky, so the idea is to start with old favorites of chicken and burgers, then add dishes from around the country they've come across.
"The sky is the limit. In winter we want the whole menu to be available.
Winter can present problems outdoors with temperature, but Kelly said an experience eating outdoors in November in Rhode Island taught her about heaters capable of warming a 200-square-foot area. This would take up a large majority of the exterior space of the old Sidelines and the new Bubble.
"Rachel and I have been talking about opening a restaurant for several years, so this is a dream come true for us."
When the building became available, it was obvious for the Kellys to jump in and buy it because they "believe this town needs a breakfast, lunch and dinner place to go. ".
He envisions a team of around 50 employees considering the restaurant, juice and smoothie bars, lasertag, etc., operating six days a week 52 weeks a year.