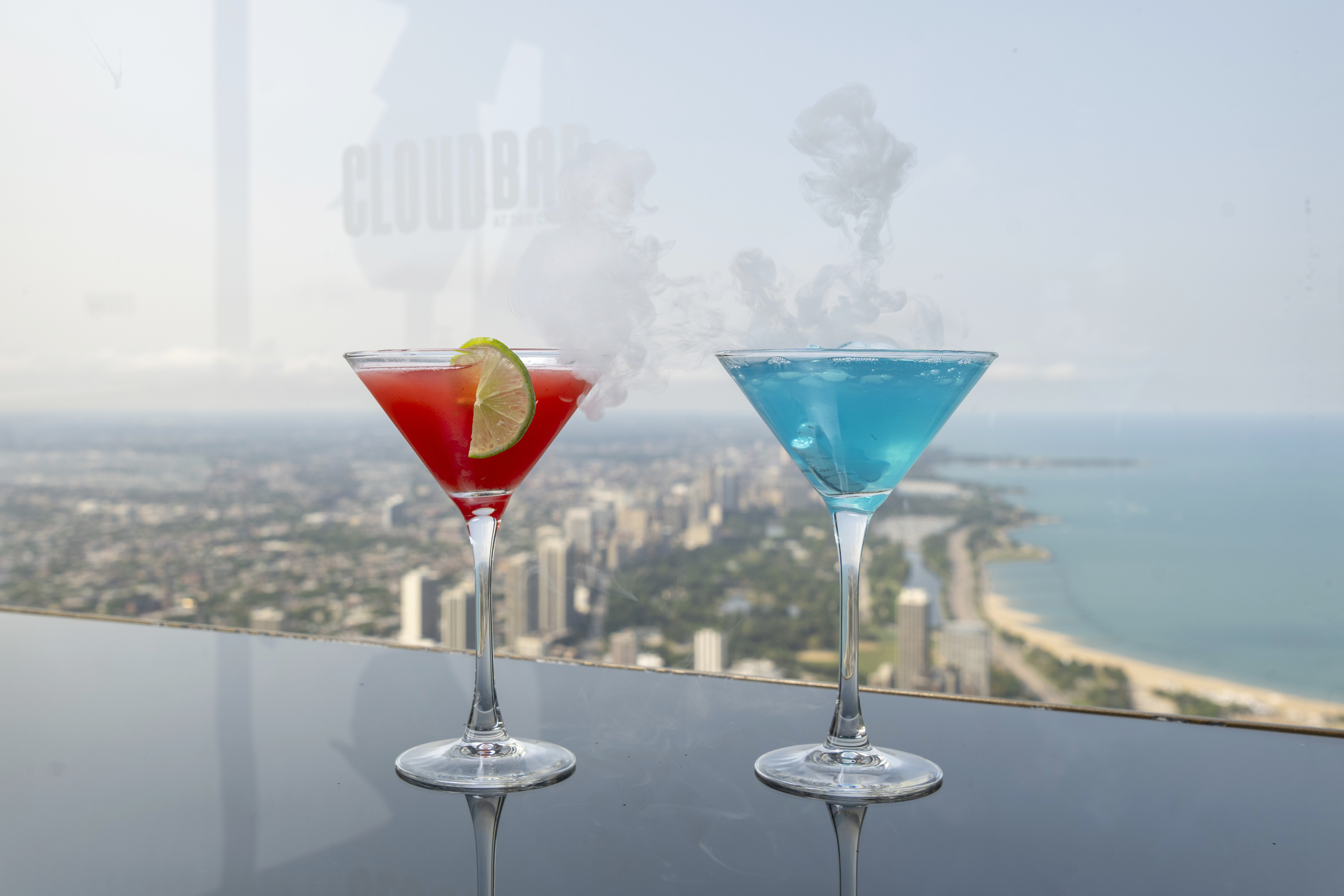 A new bar at 360 Chicago offers some of the best views in the city
Chicago has 77 neighborhoods, but tourists rarely leave downtown to explore them. 360 Chicagowhich operates the 94th floor of the building formerly known as John Hancock Center, aims to give a taste of what they have to offer with a $2 million update centered around a new bar.
"At the center of all of our investment and space design decisions, we try to find the opportunity to amplify Chicago's neighborhoods," said Nichole Benolken, CEO of parent company 360 Chicago. , Magnity. "We did this by identifying partners in the neighborhoods who could influence our food, our merchandise and our cocktails."
The menu at CloudBar, which had its grand opening on September 14, lists neighborhood inspiration for every dish and every drink. Some are broad, like the quesadillas and carnitas for Pilsen or the margarita flatbread attributed to Little Italy, but others are based on partnerships with local businesses. Cocktail menu includes two exclusive Lakeview's cocktails Kit Kat Lounge & Supper Club including the Heavenly Martini, a blend of lemon vodka, Alize and blue curaçao topped with dry ice to provide a cloudy effect. CloudBar already has a menu of eight more Kit Kat drinks that they will be slowly rolling out.
"We have a broader vision for the cocktail menu and the food menu which will expand and evolve over the next two to three months as we learn more about what our customers are looking for and what works. well in our space," Benolken said.
from Bronzeville Moody Tongue Brewery supplies all beers on tap, including an exclusive Magnity pilsner. Visitors arriving earlier in the day or simply looking to avoid alcohol can try an excellent oat milk latte from Hyde Park's Kikwetu, with cold brew coffee sweetened with rose or lavender syrup. CloudBar plans to add hot drinks from Kikwetu to the menu later this year.
"Their coffee is life changing," Benolken said. "They have big plans for growth in the city and if we can help people become aware of what they offer then it's a privilege."
CloudBar also has a small take-out area featuring packaged food from local businesses, including Roscoe Village's Vosges Haut-Chocolat and Northbrook's Carol's Cookies. This area may be the only space open to the public on certain days, as the venue is designed to be cut into multiple configurations to accommodate private parties. Part of this separation is through panels depicting iconic Chicago neighborhoods, people, and structures created by muralist Lauren Asta.
The space offers spectacular views of the city, especially from the long tables around the perimeter. New stickers added in 360 Chicago list neighborhoods to provide additional context for visitors while artists from Bronzeville, Lakeview and Pilsen provided artwork on display near TILT. For $45, visitors will have access to 360 Chicago, a ride on TILT that creates the sensation of falling from giant windows and a drink at the CloudBar. In October or November, 360 Chicago plans to announce reduced rates for Chicago residents.
"We really want to continue to build our relationship with the people of Chicago and encourage them to consider 360 Chicago and CloudBar as a place they want to spend their Thursday nights and not just a place to bring their out-of-town friends." , Benolken said. .
Part of that effort is providing entertainment three nights a week, including DJs, magicians, and performers from the Kit Kat Lounge. 360 Chicago could also bring back the neighborhood takeover parties they held in 2019, which featured performances and samplings to raise money for local nonprofits.
"We are blessed with an incredible canvas in this space," Benolken said. "We're 17,000 square feet on the 94th floor of one of the most iconic buildings in the world with the best views in town. When it's your experience, it becomes really fun to think about how you design the space so it can be one thing during the day for a school group and another thing at night when you have a party of 300 and are hosting the Kit Kat Lounge divas.
CloudBar (875 N Michigan Ave) is open Wednesday through Thursday from 9 a.m. to 9 p.m., Friday through Saturday from 9 a.m. to 11 p.m., and Sunday from 9 a.m. to 9 p.m.